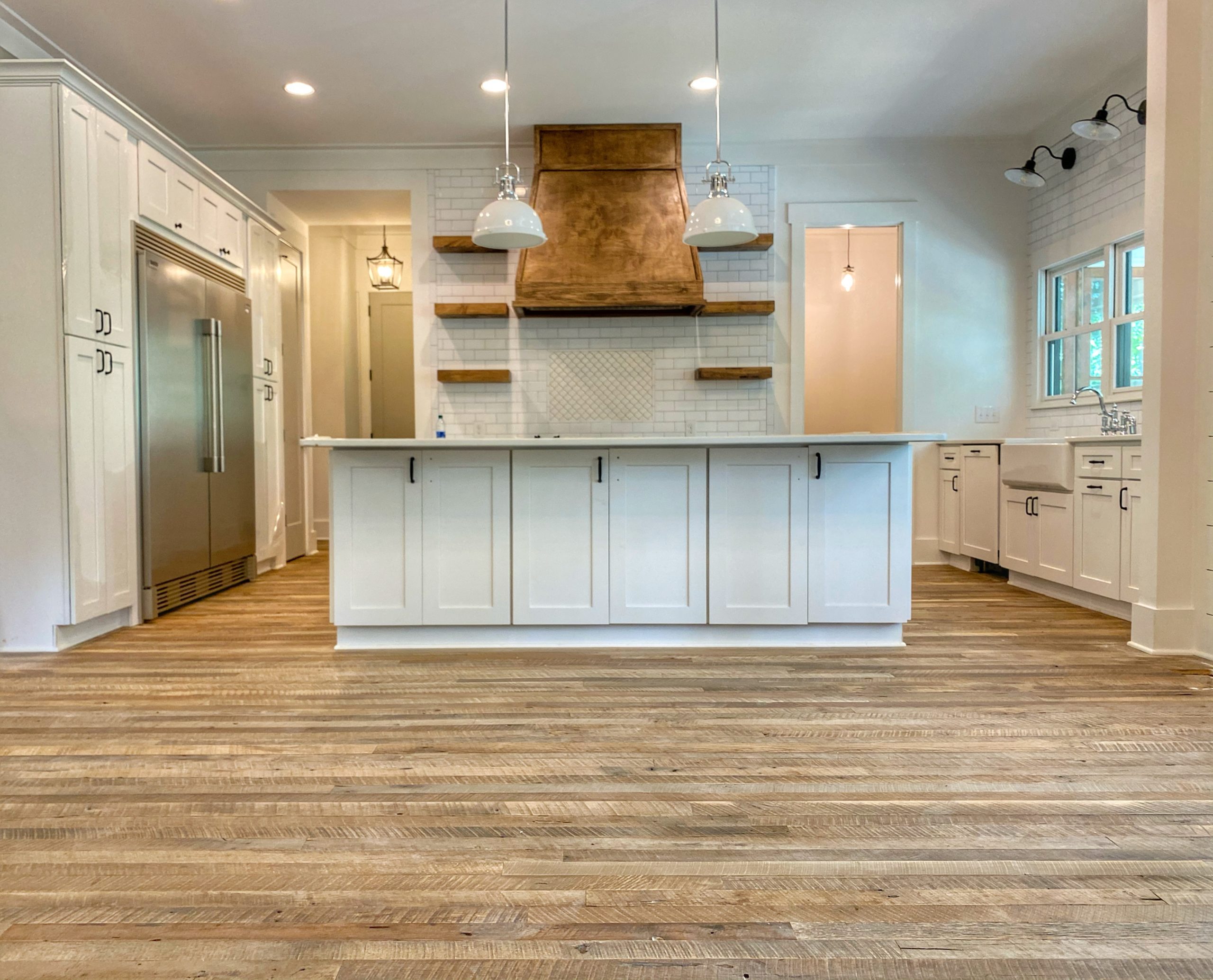 Updated June 2021.
As a manufacturer and distributor of reclaimed building materials, we recognize that there is a lot of misinformation and confusion associated with the cost of reclaimed products.
And in today's time, when new building materials are higher than ever, we thought it would be good to check in with you on the cost of reclaimed flooring. In general, reclaimed wood has not seen nearly as much volatility of late as new woods. The result is that there has never been a better time to invest in reclaimed woods. Cost can first be better understood by understanding the difference between a raw, unfinished product and a well-manufactured, ready to install product. There are many people who advertise raw, reclaimed products on internet sites, but these are products that you would probably not want in your home. These products can include raw beams, partially milled wood and reclaimed flooring not re-milled into new form. Before purchasing reclaimed materials online, it's a good idea to take time to make sure you are comparing apples to apples and are fully aware of the condition of the product.
Other things to consider when purchasing reclaimed wood flooring:
Initial Purchase Price
Installation and Finishing Costs
Lifetime cost of maintaining
Reclaimed vs. New Flooring
Best Price Options
Initial Purchase Price
The purchase price of reclaimed wood can be anywhere from $5 to $20 or more per square foot. There are many factors that determine the cost, the four main factors being:
Original vs. Smooth: Original Face flooring has been milled in a way that preserves the original patina of the wood. Smooth face flooring has been milled in a way that takes off the outer face and exposes a new "smooth" face. Original Face flooring is more expensive than smooth face because it is much harder to produce.
Species: Pricing is based heavily on supply and demand, in that some types of wood are much scarcer than others. For example, Reclaimed Chestnut and Old Growth Heart Pine are very rare and hard to find in comparison to Mixed Hardwoods or White Pine.
Width/Length: If a customer wants all wide and long boards it will be considerably more expensive than it would be if they wanted random lengths and widths. This is because wide and long boards are a lot harder to find and produce.
Grade: There are many grading characteristics such as growth rings, knots, nail holes, worm holes, heartwood content, grain orientation, etc. More character included = lower price. More character excluded = higher price.
The more specific the needs of the customer, the more the price is elevated. Simply put, the more lenient the customer's preferences are, the less the product will cost.
Installation and Finishing
Depending on the location and difficulty of the installation project, installation and finishing costs range anywhere from $2-8+/square foot. Be sure to ask if your flooring quotes include or exclude installation and prefinishing…and get firm quotes from flooring installers if needed so you understand your "all in" price before buying.
Lifetime Cost of Maintaining
If properly taken care of, ¾" solid plank wood can last lifetimes. Expect to resand and refinish in 10-20 years depending on wear and tear. This usually costs between $2-5+/square foot.
Reclaimed vs. New
If you go into any big-box flooring store and ask for the most cost-effective flooring they have, you can expect reclaimed flooring to be approximately double the cost. However, if you visit a "boutique" flooring store that offers new flooring in wide widths, long lengths and different grades, the gap narrows considerably. In this circumstance, you can expect to pay the same if not more than you would for reclaimed flooring...and as mentioned above, today that is truer than ever!
If Looking for a Budget Friendly Reclaimed Option:
There are a few factors that can make your reclaimed project more affordable. Generally speaking, the more leeway and character allowed, the lower the price. Narrow and random widths (for example, a mix of 3", 4" and 5") will be less expensive than wide widths (7", 8", and 10"). If you are interested in mixed-species flooring, that can also lower the price per square foot. Another way to keep pricing low is to look for overstock specials and in-stock material. Material that is already milled will be less costly than material that is being custom milled.