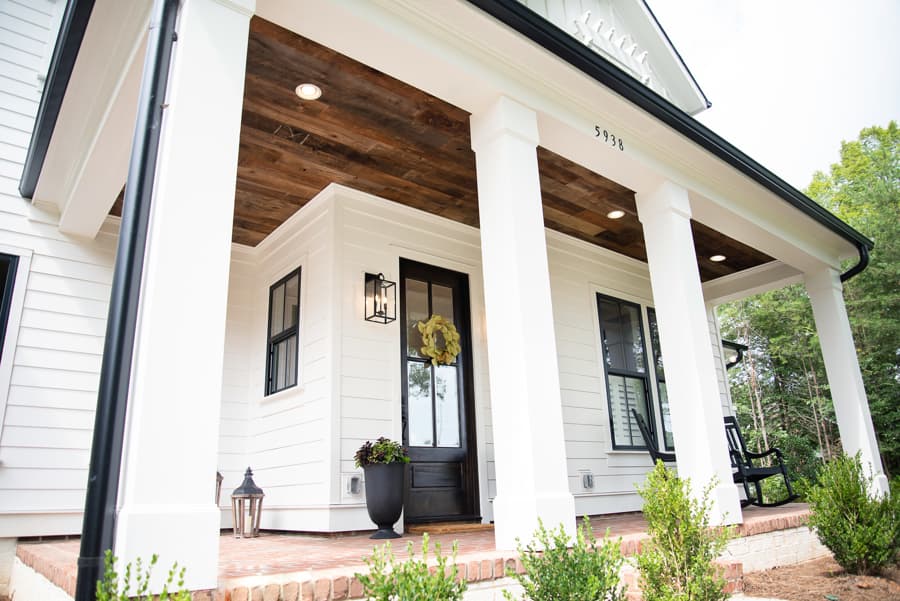 This is a home that you walk into and are in immediately in awe. From the powder room complete with Brown Barnboard walls to the two story ceiling with Weathered Grey Barnwood Box Beams in the living room and the Weathered Grey Barnsiding wall in the mudroom where the family dogs like to hang out, no detail was overlooked in this amazing home.
"We built a custom home this year and we were looking for some material to use on the ceiling of our front porch.  We stumbled upon Southend Reclaimed in Davidson by accident.  While driving through the town, we noticed their showroom.  We stopped, but they were closed.  When we walked up to the front door, we noticed the antique barnwood on their porch ceiling.  We also peaked into the window to see all the other material that they had on display in their showroom.  We were like kids in a candy store.
We scheduled an appointment for the following week, and we were not disappointed.  The showroom featured many diffident types of material to include in our home.  We did not want to use basic beadboard or readily available trim material.  We wanted something different and unique for our new home.  The people at Southend were very knowledgeable and helped us plan for the right material in the right location in our home.  We ended up choosing antique barnwood for our porch ceiling, giant timbers for our fireplace mantles, 1" x 10" material to wrap the beams in our family room ceiling and some grey barnwood for an accent wall in our mud room.  We also ended up adding same material for a wainscoting in our powder room
We had a little glitch during construction when some of the material was unavailable.  The people at Southend worked very hard to come up with an alternative solution and we were not delayed.
We could not be happier with how everything turned out.  We got some very cool material for our home at reasonable prices and the team at Southend made the whole experience worthwhile.  It can be very nerve wracking when you build a new home, but our experience was great, and we could not be happier with how it turned out."
Ed and Katie
| Huntersville, NC