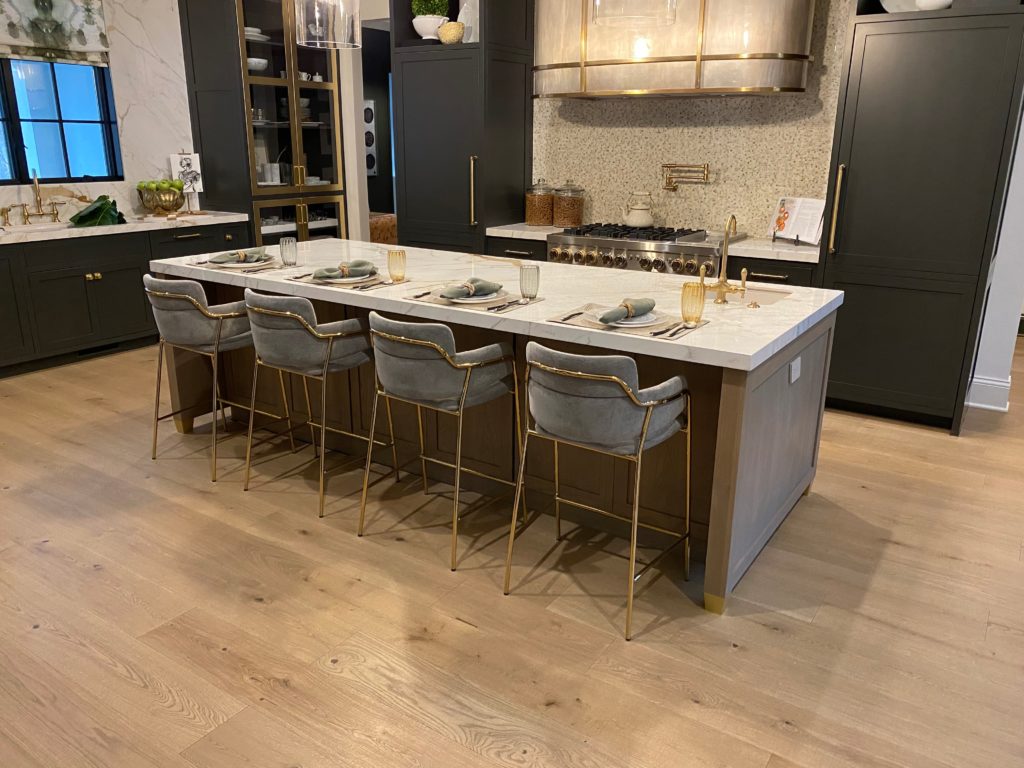 Hand Distressed Wide Plank European White Oak Flooring
Species: European White Oak
Prefinished Engineered Wood Flooring
Light Rustic Grade (some scattered knots)
Thickness: 3/4″
Width: 8 5/8″
Lengths: 2-10′
6mm Wear Layer!
Unique and Beautiful Texture: Wire Brushed and Subtle Saw Marks
Beautiful, Unique Blond Color
Color and Textures are customizable
The Charlotte chapter of the Interior Design Society (IDS Charlotte) recently completed its first designer showhouses, which consist of three custom homes located in The Preserve at Narrow Passage in Davidson, just north of Charlotte, NC. The homes were built with local charities in mind, with all proceeds from tours and other special events benefiting Motor Racing Outreach, The Hendrick Family Foundation, The Dale Jr. Foundation and Operation Finally Home. Top names in Charlotte design came together to create one-of-a-kind living spaces, and Southend Reclaimed was honored to be included when asked to provide flooring for one of the homes. We provided a one-of-a-kind, custom European White Oak for this project that is truly exquisite, because "average" flooring simply wouldn't do in a space like this! The beautiful pre-finished coloring, hand distressed wire brushing and light saw marks make this flooring as unique as it is awe-inspiring. Prior to the COVID-19 pandemic, the houses were planned to be open to visitors for three weeks, and special ticketed events including chef demonstrations, floral entertaining, outdoor living and kitchen trend talks, a vendor day and celebrity book signings were also planned to raise money for the charities. Unfortunately, due to COVID-19, the homes were only open to the public for two days after over two years of planning. Thankfully, the awesome people at IDS Charlotte were able to put together a video tour showcasing all three of the homes and made it available on Pay-Per-View! So even though the original plans for showing off the homes weren't able to happen, money has still been raised for four wonderful charities. To see the beautiful homes and support the mission of IDS Charlotte, check out the virtual tour in the link below.
Tour the Interior Design Society Showhouses on Pay-Per-View Here!
To bring Hand Distressed European White Oak to your next project, call us at 704-765-9773 or contact us here.