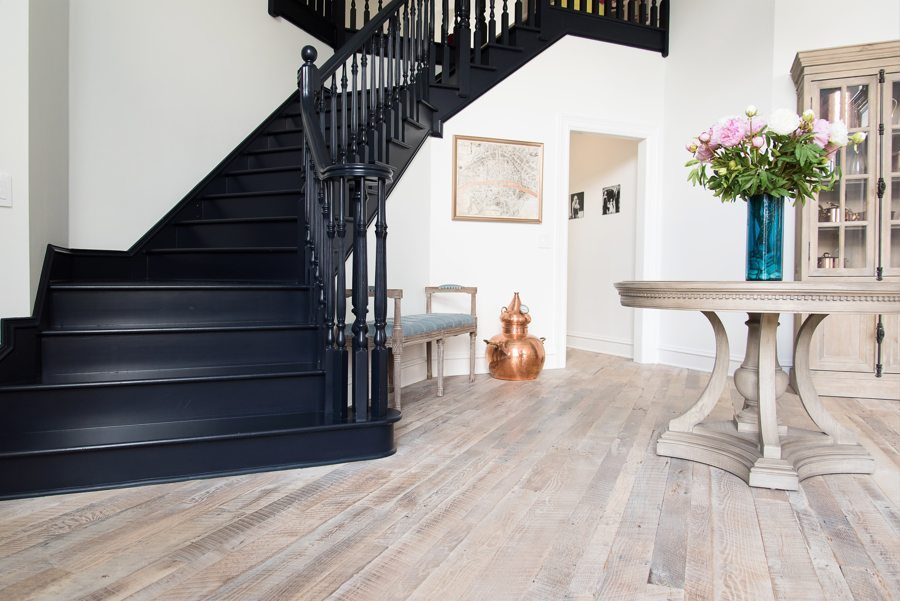 Reclaimed from a barn in Missouri built in the late 1800s, the Original Face Oak Flooring in the Levack home is one of many awe-inspiring focal points. When asked about the process for selecting floors for their home, Marc Levack explained how he and his wife took several factors into consideration:
"First, we wanted something truly unique that was not too rustic and not too modern...something that could go with our honed marble countertops as well as our gas lanterns from New Orleans and French La Cornue cooker. We also wanted something durable that could take a beating as we have two young kids and dogs. While our home is only 25 years old, we wanted an authentic appearance that would not look dated. We visited the Southend Concept Cottage and fell in love with the Original Face Oak Flooring because it is durable, has stood the test of time and has tremendous character. On today's pre-finished, glossy floors, scratches tend to stand out. On our floors, any abuse from day to day life simply adds to the original patina. The finish that we selected has proven to be extremely durable and has already withstood wine parties, kid messes and kitchen spills. Nearly every guest that we welcome into our home immediately comments on the floors before anything else. It was a bold choice, but we cannot imagine any other flooring in our award winning home."
To learn more about the flooring used in the Levack home, visit our Original Face Antique Oak product profile here!